Home » » Hot Topics » Michigan Utilizes "Fan-Gating" to Increase Ticket Sales
Originally published on National Sports Forum | Published September 19, 2012 | 'Selling It…' eNewsletter by Chantelle Neep, Editor
Michigan Football Social Media Ticket Pre-Sale
Objective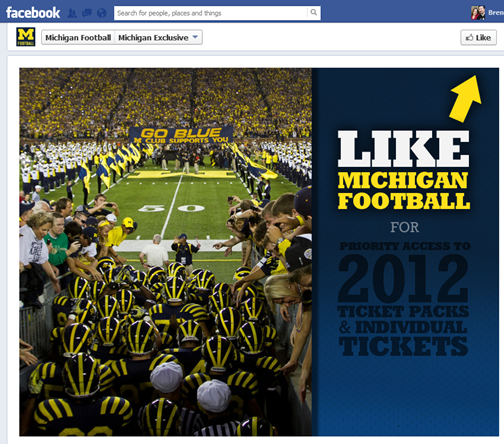 In today's fast paced, well-connected environment it can be difficult to keep up with the continuous barrage of new technologies, platforms and providers that emerge onto the sports marketing landscape. This continuous change creates an external pressure to "keep up", leaving sports teams and organizations having to implement change out of fear of being left behind by the competition. While sports organizations can benefit from embracing the brave new world, change for the sake of change isn't always a good thing. And more importantly, it's essential to evaluate the motivation for implementing that change. Will it make you more efficient? More profitable? This is the dilemma the University of Michigan was facing when developing their annual Facebook ONLY Presale for Michigan Football. "From the Michigan Athletics view point, a key takeaway was to repeat a successful year-over-year ticketing initiative driven by social media platforms," explains Jordan Maleh, Director of Digital Marketing for the University of Michigan. Last season, the team generated over $74k in single ticket sales through a Facebook only social media campaign developed by Paciolan. For the 2012 Michigan Football Social Media Ticket Presale the team sought to re-create their past success to drive overall revenue and individual ticket sales.

Program Description
Building on the success from 2011, the University of Michigan once again partnered with Paciolan's strategic marketing services team to develop the 2012 Michigan Football Social Media Ticket Presale, available exclusively for Michigan football Facebook fans from Monday, July 16 – Tuesday, July 31. To activate the pre-sale, Michigan used the Pac Social Media Platform. This content system powered by Buddy Media allows users to build apps and tabs for their Facebook pages through a series of application templates. As subscribers to the platform, Michigan can use it to customize their Facebook page with sweepstakes, contests, polls and games. The applications can be used for fan-acquisition, building a database, offering discounts, or measuring fan attitudes and perceptions.
For Michigan's promotion they used the platform's "Fan-gating" application, the practice of requiring a fan to "like" a Facebook page in order to unlock content. Fans landing on their Facebook page that hadn't "liked" it yet were greeted with an image inviting them to "like" the page, and offering priority access to 2012 ticket packs and individual tickets. "Implementing the notion of fan-gating [via PacSocial] was an easy decision, even with Facebook converting to Timeline [in February]. It certainly appeared that the notion of fan-gating was irrelevant as Facebook wanted to drive traffic to Timeline, and make Timeline the centerpiece for brand pages. However, fan-gating was not actually extinct; simply, a different strategy had to be activated," explains Maleh.
With the understanding that acquiring a Facebook 'like' was no longer sufficient (or efficient), and with the launch of Timeline, selecting to implement fan-gating actually offered fans the decision to essentially decide 'yes' or 'no' to partake in the Social Media Ticket Presale. The notion that new fans would have to make a conscious decision to 'like' Michigan Football, in order to partake in the pre-sale, offered Michigan Athletics valuable insight into the type of fan they were acquiring in this promotion. More than simply acquiring 'another' like, they knew they were attracting a more engaged fan, one that may ultimately result in an individual ticket purchase and hopefully, a valued fan year-over-year.
The image outlining the offer on the University of Michigan Football Facebook page
Media
The Michigan Football Social Media Ticket Presale "was promoted through a number of internal (non-paid) assets including Michigan Insider (email), MGoBlue.com and of course Facebook and Twitter" said Jordan Maleh.
Partner
Partnering with Paciolan to use the Pac Social Media Platform allows the University of Michigan the ability to monetize and sell tickets, build their database and engage their 950,000 plus Facebook followers with customizable content. "With this strong foundation they are able to control all distribution of content to all of their social media vehicles like Facebook, Twitter, Google+, LinkedIn and YouTube. They can control the content and conversation under one single login which makes it uniquely powerful," explains Craig Ricks, Vice President of Marketing for Paciolan. Additionally, the ticketing system gives Michigan fans the opportunity to seamlessly work through each ticket purchase, limiting the chance of losing the potential ticket buyer if presented with multiple screens prior to check out. "Paciolan's partnership with Buddy Media gives Michigan Athletics a social enterprise marketing suite, allowing seamless technology solutions that Michigan Athletics can optimize on a day-to-day basis if need be. The key being, we are in control, when we want to be," adds Maleh.
Results
The Michigan Football Social Media Ticket Presale was a huge success, generating $142,000 in ticket sales. "They key to being successful on social media is engaging your audience and having the two-way conversation. That way, when you're engaging your fans with your content, you can use it as a vehicle to sell tickets without actually asking for a sale," says Ricks. "Looking at social media as only a monetization opportunity won't give you the results you are looking for. You need to look at this as a conversation opportunity so you can build that authentic image that is needed to have success in social media campaigns. Concentrating on engaging his fans first, then throwing in a monetization opportunity is how Jordan saw so much success this past July with their promotion."
Looking Ahead
After back to back years of overwhelming revenue growth, directly attributed to the annual Pre-Sale, there is no doubt that Michigan will continue to partner with Paciolan in the future.
Originally published on National Sports Forum | Published September 19, 2012 | 'Selling It…' eNewsletter by Chantelle Neep, Editor